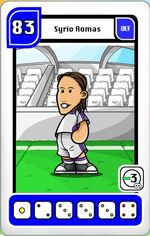 Number: 83
Position: DEF CF: -
Colour: Grey
Power: Sliding Tackle
Power Trigger: Pair
Hire Cost: $8,000,000
Sell Cost:
Unlock Condition:
Unlock Price:
In-Game Description
Edit
Syrio would like nothing more than to win every trophy by beating his rival New Campers in the final. Let's hope he gets his wish.
Other Description
Edit
Syrio Romas is a parody of Sergio Ramos.